A top Border Patrol union official this week told Fox News that agents could support a potential impeachment of Homeland Security Secretary Alejandro Mayorkas, if it was accompanied by a change in the situation at the border that agents say has left them overwhelmed.
Republicans in Congress last year raised the specter of a potential impeachment over the ongoing crisis at the southern border, which saw 2.3 million migrant encounters in FY 2022 and is not slowing down — with nine consecutive months of encounters above 200,000.
"How else are we going to drive the message home to Mayorkas and the White House that this is truly a disaster down here and we need help?" National Border Patrol Council vice president Jon Anfinsen told Fox News at the border.
Now-House Speaker Kevin McCarthy, R-Calif., in November called on Mayorkas to resign or potentially face impeachment in the new Congress.
BORDER PATROL CHIEF FUMED AT BIDEN ADMIN'S HANDLING OF WHIPPING CONTROVERSY, EMAILS SHOW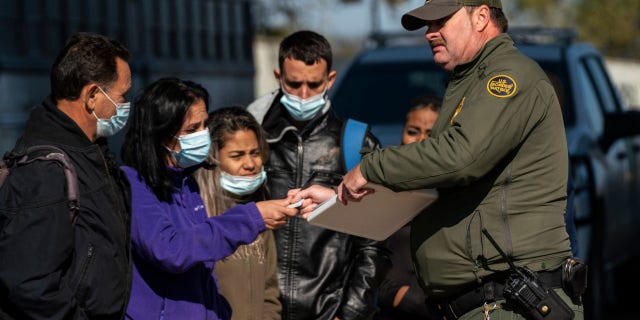 "He cannot and must not remain in that position," he said. "If Secretary Mayorkas does not resign, House Republicans will investigate every order, every action and every failure to determine whether we can begin an impeachment inquiry."
A spokesman for DHS responded at that time by saying Mayorkas "is proud to advance the noble mission of this Department, support its extraordinary workforce, and serve the American people.
"The Department will continue our work to enforce our laws and secure our border, while building a safe, orderly, and humane immigration system." 
MCCARTHY CALLS ON MAYORKAS TO RESIGN OR POTENTIALLY FACE IMPEACHMENT INQUIRY: 'ENOUGH IS ENOUGH'
The DHS and the administration have since tried to put the ball in Congress' court, calling on lawmakers to pass a sweeping immigration bill to solve what they say is a "broken" system that has needed repair for years. But the impeachment push has remained hot, with Rep. Pat Fallon, R-Texas, introducing articles of impeachment against Mayorkas this month.
The Border Patrol Union, which has backed calls to impeach the DHS chief before, says it is keen for change.
DHS PUSHES BACK AGAINST MCCARTHY CALL FOR MAYORKAS TO RESIGN OR FACE POTENTIAL IMPEACHMENT
"If at the very least it puts a bigger spotlight on what's happening down here, hopefully get some of the resources and maybe gets Border Patrol agents out of the asylum business and putting us back in the field, then we're all for it," Anfinsen said. "It's just a matter of what is going to be the result of it in the end. That's the question."
Anfinsen also echoed a common complaint from agents that they are being taken off the front line to help with processing, instead of patrolling the border itself.
"Agents can help with [processing]. But they need to also be out there to be able to deal with the patrolling the border piece of it, the part that's in our job title, Border Patrol agent. We're supposed to be out there patrolling the border," he said.
CLICK HERE TO GET THE FOX NEWS APP
CBP sources told Fox News this week that there were more than 250,000 encounters at the border in December, as well as over 70,000 "gotaways."