De Wereldgezondheidsorganisatie dringt er bij China op aan om te blijven vrijgeven COVID-19-gegevens nadat Beijing op zaterdag bijna 60.000 coronavirusgerelateerde sterfgevallen meldde sinds 8 december.
De aankondiging van Peking was het eerste officiële dodental sinds de regerende Communistische Partij in december de antivirusbeperkingen abrupt liet vallen, ondanks een golf van infecties die ziekenhuizen overspoelden. Dat zorgde ervoor dat de WHO en andere regeringen om informatie vroegen, terwijl de Verenigde Staten, Zuid-Korea en andere landen controles oplegden Chinese bezoekers.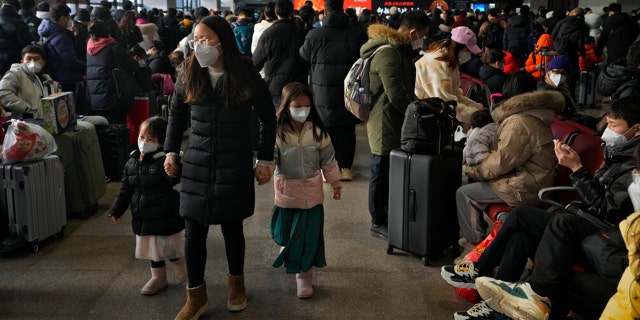 Eerder had het Chinese Centrum voor ziektebestrijding en -preventie slechts 36 sterfgevallen gemeld tussen 7 december en 8 januari, volgens de Washington Post.
In het herziene dodental zei Beijing dat tussen 8 december en 12 januari 5.503 mensen stierven aan respiratoire insufficiëntie veroorzaakt door COVID-19 en dat er 54.435 doden vielen door kanker, hartaandoeningen en andere aandoeningen in combinatie met COVID-19.
OMICRON SUBVARIANT XBB.1.5 MOGELIJK MEER WAARSCHIJNLIJK OM DEGENEN DIE GEVACCINEERD ZIJN TE INFECTEREN, ZEGGEN AMBTENAREN
De laatste cijfers duiden op een aanzienlijke stijging ten opzichte van het vorige dubieus lage sterftecijfer van 10.775 sinds de ziekte voor het eerst werd ontdekt in Wuhan in 2019.
De WHO zei dat de aankondiging van Peking op zaterdag "een beter begrip van de epidemiologische situatie mogelijk maakt".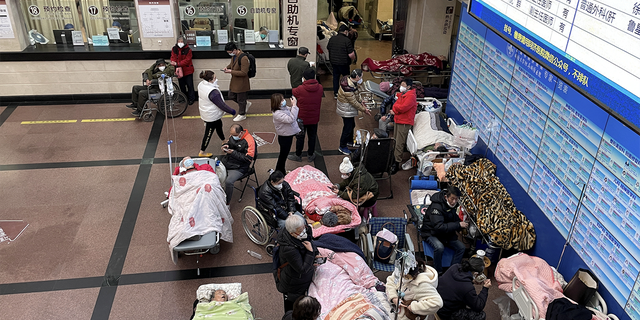 Het zei dat de directeur-generaal van de WHO, Tedros Adhanom Ghebreyesus, telefonisch heeft gesproken met minister van Volksgezondheid Ma Xiaowei.
"De WHO heeft verzocht om dit soort gedetailleerde informatie met ons en het publiek te blijven delen", aldus de dienst.
De National Health Commission zei dat alleen sterfgevallen in ziekenhuizen werden geteld, wat betekent dat iedereen die thuis stierf niet zou worden meegeteld. Het gaf geen indicatie wanneer en of het bijgewerkte cijfers zou vrijgeven.
CHINA STRIJDT OM HET CONTROVERSIËLE 'ZERO COVID'-BELEID TE ONTMANTELEN
Een gezondheidsfunctionaris zei dat de "nationale noodpiek voorbij is", gebaseerd op een daling van 83% in het dagelijkse aantal mensen dat naar koortsklinieken gaat vanaf een hoogtepunt op 23 december.
China heeft alleen sterfgevallen als gevolg van longontsteking of respiratoire insufficiëntie in zijn officiële tol geteld, wat veel dodelijke slachtoffers uitsluit die mogelijk aan het virus in andere landen kunnen worden toegeschreven.
Ondertussen is zondag de hogesnelheidstreindienst hervat tussen het Chinese vasteland en Hong Kong onder beperkingen die 5.000 passagiers van elke kant toestaan ​​om de reis dagelijks te maken en een negatieve virustest vereisen binnen de voorgaande 48 uur.
KLIK HIER OM DE FOX NEWS-APP TE ONTVANGEN
De twee partijen heropenen reisverbindingen die waren opgeschort onder de "zero-COVID" -strategie van Peking, die tot doel had het virus uit China te houden. Hong Kong legde verschillende maar even strenge beperkingen op die de meeste internationale reizen blokkeerden.
The Associated Press heeft bijgedragen aan dit rapport.