A Florida man lost his job, suffered from depression and hid in his home after the Brevard County Sheriff's Office showed his picture on "Wheel of Fugitive" videos, according to a recently filed lawsuit.
David Gay sued the agency and Sheriff Wayne Ivey for $50,000, accusing them of defamation and emotional distress after his picture and identity were included in four social media videos on Jan. 26, Feb. 2, Feb. 9 and Feb. 23 of 2021.
"Wheel of Fugitive" is a snippy, weekly video segment spoof of "Wheel of Fortune," in which Ivey spins a wheel showing what are described as 10 of the county's most wanted fugitives.
Except Gay was in the county jail, not a fugitive, when he appeared in the first three segments, according to the lawsuit. 
SLED AGENT DOUBLES DOWN, TESTIFIES THAT ALEX MURDAUGH SAID IN INTERVIEW, 'I DID HIM SO BAD!'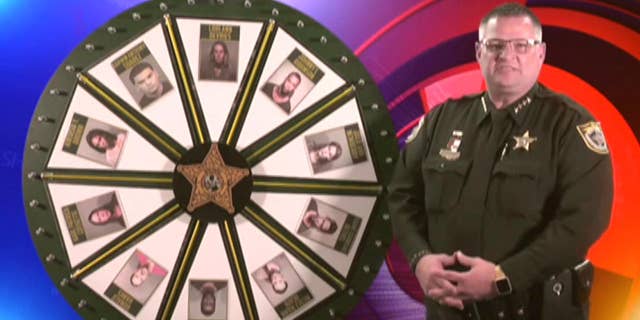 Gay had been charged with misdemeanor domestic battery after he believed his father fought his mother, but the case was ultimately dismissed, the lawsuit says. 
But the arrest violated terms of his November 2020 sentencing for an undisclosed offense of three years probation for a withhold of adjudication, which is a withholding of a conviction and technically means he was not convicted of an offense. 
One of the benefits of a withhold of adjudication sentencing is its impact on job hunting, because many employers only ask if someone has been convicted of a crime, to which Gay would be able to say no. 
MADISON BROOKS' FAMILY 'BLOWN AWAY' BY CLAIMS LSU STUDENT 'WOULD NOT HAVE COMPLAINED' ABOUT ALLEGED RAPE
On Feb. 22, 2021, Gay was released from custody and started a new job, according to the lawsuit.
The next day, Gay appeared in the sheriff's "Wheel of Fugitive" segment again. His new employer saw it and told him "not to bother showing" for work, according to the the lawsuit. 
FLORIDA BILL COULD HAND GUN OWNERS HUGE WIN, MAKE THE US A CONSTITUTIONAL CARRY-MAJORITY COUNTRY
Afterward, he suffered from depression and anxiety, and stayed in his home "as much as possible" because he "feared that the public and/or police would stop, harass, verbally and physically threaten, or arrest him," the lawsuit says. 
The Brevard County Sheriff's Office didn't immediately return requests for comment. 
CLICK HERE TO GET THE FOX NEWS APP
The video segment went viral following its launch about six years ago, and Ivey spoke about his popularity during a 2017 interview.
"Hardly any place I go speak or I'm at somebody doesn't say, 'I watch the Wheel of Fugitive,'" Ivey said at the time. "They see the value of not only trying to get the fugitive off the street but engaging the community in doing so."