Rep. George Santos and Sen. Mitt Romney engaged in a tense exchange in the moments leading up to President Biden's State of the Union address Tuesday evening.
The exchange started when Romney, R-Utah, was walking down the center aisle on the way to his seat and made eye contact with the controversial Santos, R-New York, who had a prized seat along the aisle.
"You don't belong here," Romney appears to say, in full view of C-SPAN cameras. The State of the Union is widely televised, and multiple angles caught the exchange.
"You ought to be embarrassed," a stern Romney continued, prompting a brief exchange of words between the two lawmakers.
STATE OF THE UNION 2023: BIDEN TOUTS INFRASTRUCTURE, AMERICAN RESOLVE DESPITE ATTACKS ON DEMOCRACY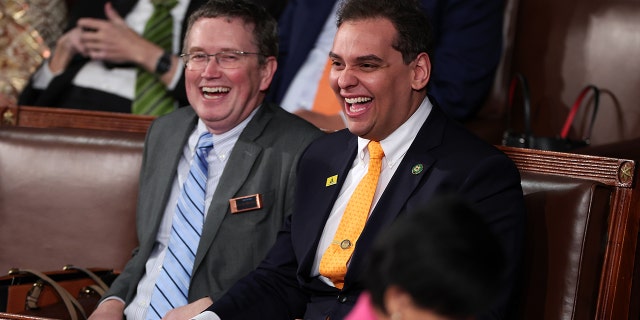 Santos is facing a House Ethics Committee investigation for allegedly lying about his work experience and fabricating accolades throughout his campaign.
The New Yorker appeared to defend himself in the exchange.
Romney appears to call Santos an "a—" before turning away from the lawmaker, who appeared to fire back: "You're a bigger one."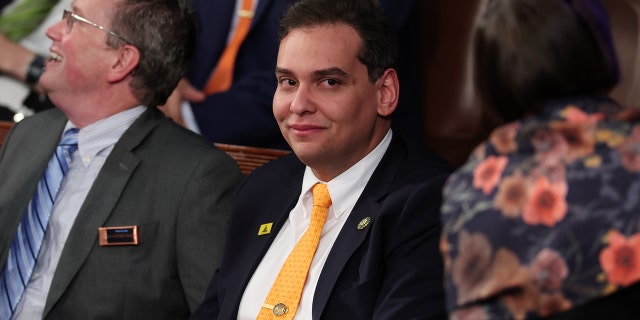 Santos had a seat along the aisle that is coveted by members as they can greet and interact with the various officials as they enter and exit the chamber, including President Biden, Vice President Kamala Harris and the U.S. Supreme Court Justices.
STATE OF THE UNION: BIDEN LAYS OUT ECONOMIC PLAN, CALLS FOR BIPARTISANSHIP BUT REPEATEDLY CHIDES REPUBLICANS
Santos was seated next to Rep. Thomas Massie, R-Ky., while Romney was seated with Sen. Kyrsten Sinema, I-Ariz. and Sen. Todd Youg, R-Ind.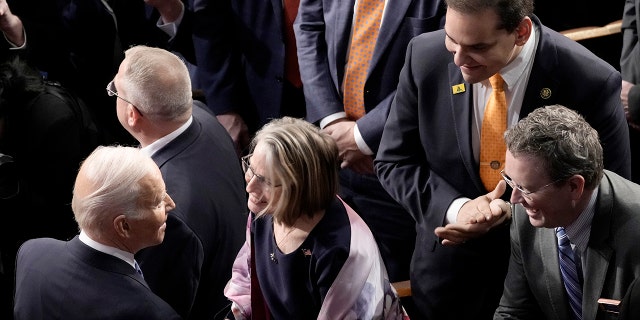 After the State of the Union address, Romney said he did not recall the exchange but described Santos as a "sick puppy."
"He's a sick puppy, he shouldn't have been there," Romney told NBC News reporter Frank Thorp.
BIDEN BOOED DURING STATE OF THE UNION FOR CLAIMING GOP WANTS TO CUT SOCIAL SECURITY, MEDICARE
The lawmaker added: "Given the fact that he's under ethics investigation he should be sitting in the back row and being quiet instead of parading in front of the president."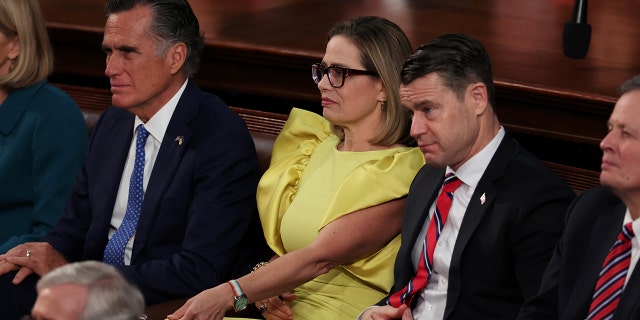 On Twitter, following the address, Santos tweeted at Romney that he would "NEVER be PRESIDENT!"
Biden started his State of the Union address just after 9 p.m. on Tuesday, and it ran for more than an hour. 
CLICK HERE TO GET THE FOX NEWS APP
His comments on combating China and helping veterans who were exposed to burn pits drew praise from Democrats and Republicans alike, though his comments on Social Security and fentanyl being trafficked across the U.S.-Mexico border drew jeers and criticism.
Biden's address was the first he gave to the Republican-controlled House.