India will receive 12 cheetahs from South Africa next month that will join eight others it received from Namibia in September as part of an ambitious plan to reintroduce the cats in the country after 70 years.
India plans to transport an additional 12 annually for the next eight to 10 years as part of an agreement signed by the two African countries, India's Ministry of Environment, Forest and Climate Change said Friday.
Cheetah populations in most countries are declining. South Africa, where the cats are running out of space, is an exception.
INDIA TO REINTRODUCE CHEETAHS, 6 DECADES AFTER THEY DISAPPEARED FROM THE COUNTRY'S GRASSLANDS
South Africa's National Biodiversity Institute, National Parks, the Cheetah Range Expansion Project and the Endangered Wildlife Trust will collaborate with their Indian counterparts, the ministry said in a statement.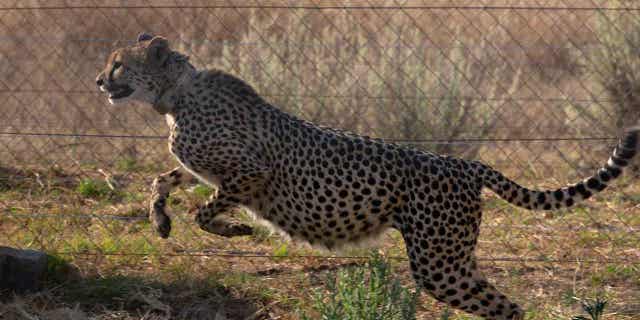 The eight cheetahs flown from Namibia in September were released in sprawling Kuno National Park in central India.
Cheetahs were once widespread in India but disappeared by 1952 because of hunting and loss of habitat.
India hopes that importing African cheetahs will aid efforts to conserve the country's threatened and largely neglected grasslands.
CLICK HERE TO GET THE FOX NEWS APP 
There are fewer than 7,000 adult cheetahs in the wild globally, and they now inhabit less than 9% of their original range. Shrinking habitat, due to the increasing human population and climate change, is a huge threat.