House Speaker Kevin McCarthy on Thursday again ruled out any form of amnesty for illegal immigrants already in the U.S., after the Biden administration renewed calls for an inclusion of a pathway to citizenship as part of any immigration deal.
McCarthy spoke to Fox News during his visit to the border in Arizona. He was asked about past statements he has made where he has ruled out any form of pathway to citizenship for illegal immigrants as part of an immigration deal. On Thursday he reiterated that stance.
"That is the case, because you can't have immigration reform without first securing the border," he said. "How can you trust? You find people coming one after another and when you ask them why they'll tell you 'the president told me to come.'"
The Biden administration and congressional Democrats have called for citizenship for millions of illegal immigrants as part of a reform to fix what they say is a broken immigration system.
MCCARTHY, IN ARIZONA, SAYS 'NO-ONE BELIEVES' BIDEN ADMIN'S CLAIM BORDER IS SECURE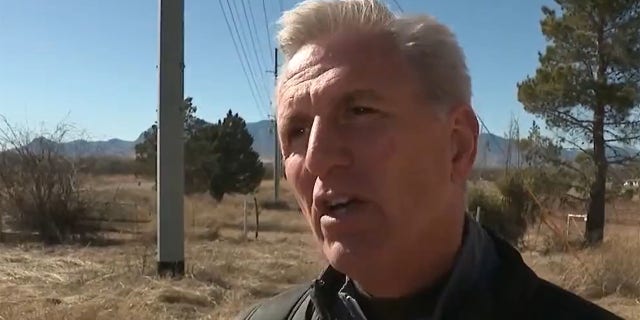 The administration unveiled legislation on Biden's first day in office in 2021. At the core of the bill is an eight-year path to citizenship for illegal immigrants in the U.S. before Jan. 1 2021 — as well as immediate green card eligibility for farmworkers, Temporary Protected Status recipients, and some who came to the U.S. as minors, who activists refer to as "Dreamers."
Republicans rejected the legislation due to the inclusion of an amnesty for illegal immigrants, and it has shown no sign of picking up Republican support — but the administration has continued to push the bill, including Homeland Security Secretary Alejandro Mayorkas and President Biden.
"America's border problems won't be fixed until Congress acts. If we won't pass my comprehensive immigration reform, at least pass my plan to provide the equipment and officers to secure the border. And a pathway to citizenship for Dreamers, those on temporary status, farmworkers, and essential workers," Biden said during the State of the Union.
McCarthy made his latest comments during a visit to Cochise County, Arizona, with freshman Reps. Juan Ciscomani, R-Ariz., Lori Chavez-DeRemer, R-Ore., Jen Kiggans, R-Va., and Derrick Van Orden, R-Wis.,
The lawmakers met with local officials and took an aerial tour of that part of the border. McCarthy dismissed claims by multiple administration officials, including Homeland Security Secretary Alejandro Mayorkas and Vice President Kamala Harris that the border is "secure."
MIGRANT ENCOUNTERS HIT 156,274 IN JANUARY AS BIDEN ADMIN CLAIMS NEW BORDER MEASURES 'ARE WORKING'
"No-one believes our border is secure, not the border agents, not America," he said. "Mayorkas has no integrity to continue to say that."
The White House had responded to McCarthy's visit by accusing him of political grandstanding and cited as progress a recent drop in border numbers between the historic high of 251,000 encounters in December to over 156,000 in January which it attributes to new measures rolled out last month.
"Perhaps seeing this progress will spur House Republicans to do some soul-searching," White House spokesman Ian Sams said.
CLICK HERE TO GET THE FOX NEWS APP
"Why did they oppose record funding secured by President Biden to strengthen border security and catch record levels of fentanyl? Why won't they support President Biden's plan to fund border security now? Why won't they ask their Republican attorneys general colleagues to stop suing to end the very programs that are reducing unlawful crossings?" he said. "House Republicans should spend less time on partisan publicity stunts and more time working on solutions."
McCarthy rejected the claims from the White House: "If they were to actually come here, they'd realize their plan is not working."
"It's a failure, it's beyond a failure, and it's destroying our nation," he said.