In de Verenigde Staten is een wetsvoorstel ingediend dat de verkoop van kangoeroe-onderdelen zou verbieden Wetgevende macht van Oregongericht op fabrikanten van sportkleding die leer van de dieren gebruiken om hun producten te maken.
Voetbalschoenen zijn een van de weinige producten gemaakt van kangoeroeleer die routinematig worden verkocht in Oregon, meldde Oregon Public Broadcasting. De maatregel zou gevolgen hebben voor Nike, dat gevestigd is in Oregon en de grootste werkgever van de staat is.
"Het is gewetenloos dat miljoenen inheemse wilde dieren in Australië zijn gedood omwille van hoogwaardige voetbalschoenen die worden gedragen door een subgroep van elitevoetballers", zei de democratische senator Floyd Prozanski uit Oregon, die het wetsvoorstel indiende, in een persbericht. maandag uitgegeven door dierenrechtenorganisaties. "Ik begrijp dat deze wetgeving financiële gevolgen kan hebben voor sommige schoenenfabrikanten in Oregon, maar in de balans zou Oregon aan de humane kant van deze kwestie moeten staan. Er zijn andere materialen die kunnen worden gebruikt bij het maken van deze hoogwaardige schoenplaatjes."
IN 2022 GEDAALD AAN MANATEESTERFEN, MAAR CHRONISCHE VERHINDERING ALS GEVOLG VAN WATERVERVUILING BLIJFT EEN GROTE ZORG
In het persbericht verwelkomden het Centre for a Humane Economy, Animal Wellness Action en de Animal Wellness Foundation de verhuizing.
"Het is tijd voor deze schoenenfabrikanten om hun bedrijfsmodel te ontwikkelen om extreme dierenmishandeling uit hun productaanbod te bannen", zegt Rene Tatro, een bestuurslid van het Center for a Humane Economy.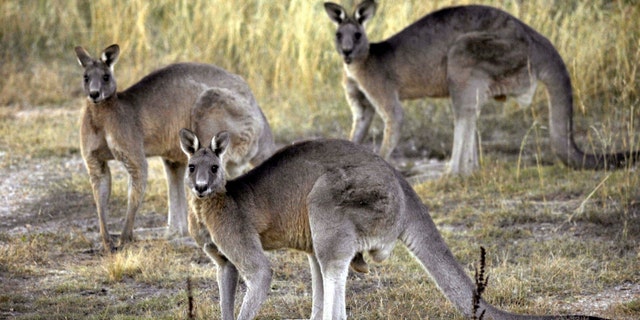 Nike reageerde niet op OPB's verzoek om commentaar, maar het bedrijf wel vertelde ESPN vorige maand dat het kangoeroeleer gebruikt in een "klein deel" van zijn voetbalschoenen en dat het "werkt met leerleveranciers die dierenhuiden betrekken van verwerkers die degelijke veehouderij en humane behandeling gebruiken, of ze nu gekweekt, gedomesticeerd of in het wild beheerd zijn."
Het wetsvoorstel van Oregon zou het een misdaad maken om "elk product dat een deel van een dode kangoeroe bevat" te kopen, te ontvangen, te verkopen of commercieel te ruilen.
ZEOTTERS DIE EEN PETITIE HERINTRODUCEERD WORDEN LANGS DE WESTKUST
Wetgevers in Connecticut hebben deze sessie een soortgelijk wetsvoorstel ingediend. Een federaal verbod op kangoeroe producten werd in 2021 voorgesteld in het Amerikaanse Huis, maar werd niet goedgekeurd.
Het verbod op "k-leather" zou niet zonder precedent zijn: Californië voerde in de jaren zeventig een verbod uit op op kangoeroe gebaseerde producten.
KLIK HIER OM DE FOX NEWS-APP TE ONTVANGEN
De commerciële oogst van kangoeroes in Australië is legaal. In 2021 werden in het land meer dan 1,3 miljoen kangoeroes gedood voor commerciële doeleinden, meldde OPB, daarbij verwijzend naar de Australische ministerie van klimaatverandering, Energie, Milieu en Water. Het bureau zei dat dit aantal minder dan een derde van het "duurzame quotum" vertegenwoordigt, wat volgens het bureau kan worden gedood zonder een van de vier belangrijkste kangoeroesoorten in gevaar te brengen.
De VS noemden verschillende soorten kangoeroes als "bedreigd" vanaf het midden van de jaren '70 tot het midden van de jaren '90, maar het dier wordt beschouwd als "hersteld".