Spain's National Court said Friday it had charged a 74-year-old retired man with terrorism for allegedly sending six letters containing explosive material to Spain's prime minister and the U.S. and Ukrainian embassies in the country.
The as-yet-unidentified man appeared before a judge in Madrid on Friday and was detained without bail, the court said. The suspect, referred to only by the initials PGP, was charged with six separate terrorism offenses, it added, after being arrested in the northern city of Miranda de Ebro on Wednesday.
The man was charged with the manufacture and use of explosive devices for terrorist purposes, according to court documents. Two of the alleged offenses were classified as aggravated as they involved members of the government.
ATTACK WITH BLADED WEAPON IN SPAIN CHURCH LEAVES 1 DEAD
Spanish media reported that the suspect had links to Russia, was strongly active on social media and was purportedly a flight risk.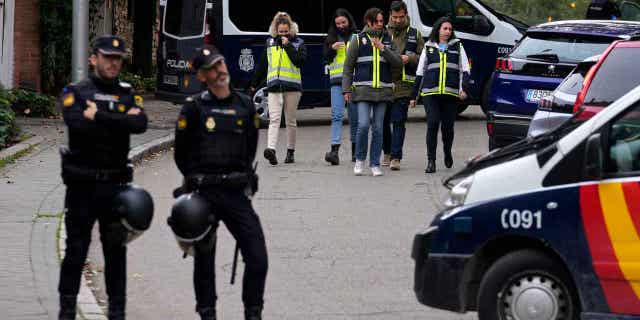 SPAIN TO LIFT MANDATORY MASK RULE ON PUBLIC TRANSPORT ON FEB. 7
The six letter bombs were sent in November and December last year and required bomb squad disposal. An employee at the Ukrainian Embassy in Madrid was slightly injured while handling one of the letters, and another was destroyed after being dispatched by regular post to Spanish Prime Minister Pedro Sánchez.
Letters with similar characteristics were sent to Spain's Defense Ministry, a European Union satellite center located at the Torrejón de Ardoz air base outside Madrid and an arms factory in northeastern Spain that makes grenades sent to Ukraine.
CLICK HERE TO GET THE FOX NEWS APP
An envelope intercepted at the U.S. Embassy's security screening point in December was detonated by authorities after a wide area in the center of Spain's capital was cordoned off.