Tussendoor zoeken schepen in door de wind geteisterde wateren Zuid-Korea en Japan hebben ten minste 14 van de 22 bemanningsleden opgepikt van een vrachtschip dat woensdag vroeg zonk, waarbij ten minste twee doden vielen, zeiden functionarissen.
Zuid-Koreaanse functionarissen zeiden dat negen van de geredden bewusteloos zijn, maar ze hebben niet onmiddellijk bevestigd dat er doden zijn gevallen. Tien bemanningsleden werden later voor behandeling overgevlogen naar Nagasaki in het zuiden van Japan, maar twee van hen werden bij aankomst dood verklaard, zeiden Japanse functionarissen.
Zuid-Koreaanse en Japanse kustwachtschepen en -vliegtuigen, evenals twee commerciële vrachtschepen, bleven zoeken naar de acht vermiste bemanningsleden, maar de inspanningen werden vertraagd door sterke wind en golven, zeiden Zuid-Koreaanse functionarissen.
De Japanse kustwacht bevestigde de redding van ten minste 13 bemanningsleden en zei dat vijf van hen – allemaal Chinese staatsburgers – nog in leven zijn.
De 6.551 ton zware Jin Tian zonk ongeveer 3 1/2 uur nadat het dinsdag omstreeks 23.15 uur een noodoproep had verzonden in de exclusieve economische zone van Japan, zei de Japanse kustwachtwoordvoerster Shinya Kitahara.
ZUID-KOREA REGERING STELT VOOR OM DE OVERWERKLIMIET TE VERHOGEN VAN 52 NAAR 69 UUR PER WEEK
Het schip, geregistreerd in Hong Kong en met hout aan boord, zonk ongeveer 160 kilometer ten zuidwesten van Nagasaki, Japanen ongeveer 150 kilometer ten zuiden van het Zuid-Koreaanse eiland Jeju.
De kapitein communiceerde voor het laatst met de kustwacht via een satelliettelefoon rond 02.41 uur en zei dat de bemanning het schip zou verlaten, minuten voordat het zonk, zeiden ambtenaren van de kustwacht van het eiland Jeju.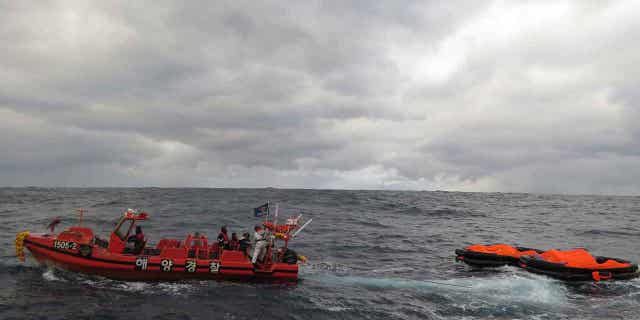 Volgens de kustwacht van Jeju werden zes bemanningsleden opgepikt door schepen van de Zuid-Koreaanse kustwacht, terwijl een vrachtschip er vijf oppikte en drie Japanse vliegtuigen.
Ambtenaren zeiden dat 14 bemanningsleden Chinees zijn en acht uit Myanmar. Volgens maritieme transportwebsites verliet het schip op 3 december Port Klang in Maleisië en was het op weg naar de haven van Incheon in Zuid-Korea.
ZUID-KOREA OVERWEEGT NUCLEAIRE ONTWIKKELING VOOR HET EERST IN GEZICHT VAN GROEIENDE VEILIGHEIDSDREIGING IN NOORD-KOREA
Het schip is eigendom van Long Bright Shipping Limited, een in Hong Kong geregistreerd bedrijf dat een dochteronderneming is van Shenzhen Shekou Shipping Transportation Co., Ltd., volgens een aanvraag uit juli 2022 van het moederbedrijf bij de Chinese National Equities Exchange and Quotations. Volgens de aanvraag werd de Jin Tian gebruikt als onderpand voor een lening die later werd terugbetaald.
Oproepen naar een nummer vermeld voor Shenzhen Shekou Shipping Transport in vasteland van China bleef woensdag onbeantwoord tijdens de weeklange nieuwe maanjaarvakantie.
Zuid-Koreaanse functionarissen zeiden niet meteen of de negen die bewusteloos waren het waarschijnlijk zouden overleven. Ze zeiden dat de vijf andere bemanningsleden die werden gered bij bewustzijn waren toen ze werden gevonden of weer bij bewustzijn kwamen.
Kitahara zei dat de oorzaak van het zinken van het schip niet onmiddellijk bekend was en dat er geen tekenen waren dat het in aanvaring was gekomen met een ander schip. Hij zei dat de aankomst van Japanse patrouilleboten en vliegtuigen werd vertraagd door slecht weer.
KLIK HIER OM DE FOX NEWS-APP TE ONTVANGEN
Ambtenaren van de kustwacht van Jeju zeiden dat eerder op woensdag een sterke windwaarschuwing was afgegeven voor het gebied, maar dat deze later werd opgeheven. De wind waaide met ongeveer 35 mijl per uur en creëerde golven van 9 tot 13 voet hoog.
De Japanse kustwacht zei dat het water in het gebied ruw bleef met een temperatuur van 57 graden Fahrenheit.