TAMPA, FLORIDA – Voor het tweede jaar op rij sterven lamantijnen in Florida in een alarmerend tempo. Een nieuwe rapport toont aan dat 800 zeekoeien stierven in 2022, en veel milieugroeperingen roepen nu op om de bedreigde soort opnieuw op de lijst van bedreigde diersoorten te plaatsen.
"De afgelopen paar jaar. Het was een mooie dodelijk jaar voor zeekoeien, met meer dan duizend doden per jaar', zei curator van Florida Manatees in dierentuin Tampa Molly Lippincott. 'Er zijn er maar ongeveer 7.000, dus je denkt aan 1.000 die elk jaar sterven. Dat is behoorlijk schadelijk voor de soort."
Zoo Tampa dient als een kritiek traumacentrum voor gewonde zeekoeien in de hele regio. De dierentuin is een van de vier revalidatiecentra in Florida die strijden om de krimpende lamantijnpopulatie te redden.
"Het is erg verontrustend. We voelen ons allemaal vreselijk over wat er op dit moment met de zeekoeien aan de hand is", zegt Cynthia Stringfield, Senior VP of Animal Health and Conservation van Zoo Tampa. "We doen ons uiterste best hier bij Zoo Tampa om deel uit te maken van de oplossing. Mensen informeren over wat het probleem is en wat iedereen kan doen om te proberen te helpen, zodat we niet weer een jaar hebben zoals vorig jaar. "
IN 2022 GEDAALD AAN MANATEESTERFEN, MAAR CHRONISCHE VERHINDERING ALS GEVOLG VAN WATERVERVUILING BLIJFT EEN GROTE ZORG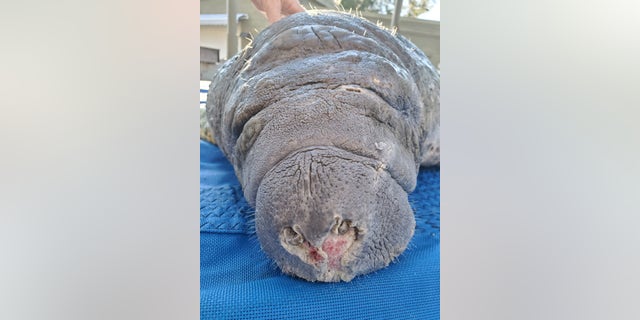 In 2021 bereikte het aantal sterfgevallen door lamantijnen een recordhoogte in 50 jaar van 1.100. In 2022 daalden de aantallen, maar het dodental is nog steeds bovengemiddeld.
"We hebben een aantal hele moeilijke zaken gehad, waarvan sommige waarvan we weten dat we er heel hard aan hebben gewerkt en die we niet hebben kunnen redden, maar sommige waarvan we echt nooit hadden gedacht dat ze de hoek om zouden gaan en zijn doorgegaan om daar vrijgelaten te worden ', zei Lippincott.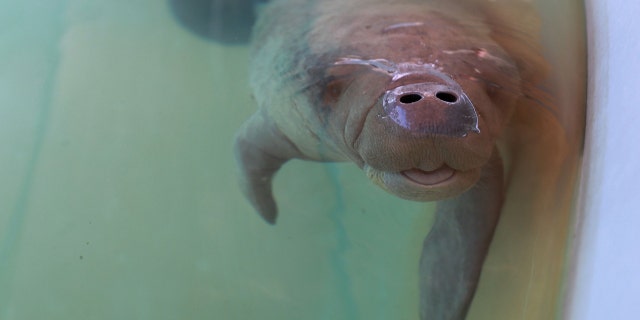 De grootste bedreigingen waarmee zeekoeien in het wild worden geconfronteerd, zijn voedselschaarste, aanvaringen met boten en koude watertemperaturen. Biologen gaven eerder de schuld een gigantische afsterving van zeegras voor het veroorzaken van uithongering onder de bedreigde soorten, meestal langs de oostkust van Florida.
FLORIDA BREEKT HET JAARLIJKSE DOODRECORD VAN MANATEE IN DE EERSTE 6 MAANDEN:
Na het recordjaar hebben staats- en federale instanties een aanvullend voedingsprogramma opgezet in een lagune in Central Florida, waar veel van de gigantische zeekoeien in de winter naartoe migreren.
Biologen verdeelden meer dan 200.000 pond bladgroenten in de Indian River Lagoon met de bedoeling de hoeveelheid tijdens het huidige koude seizoen te verdubbelen.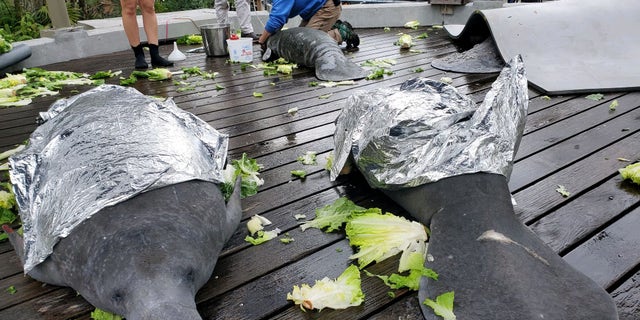 "Als we mestafvoer hebben in bepaalde gebieden waar de lamantijnen in de winter naartoe gaan om te eten, en het zorgt voor een algenbloei die de zon blokkeert van het voedsel, de zeegrassen die ze nodig hebben," zei Lippincott. "Dus dat is de grote oorzaak achter de sterftegebeurtenis dat ze allemaal geprogrammeerd zijn om in de winter naar bepaalde plaatsen te gaan om te eten, en dan komen ze daar en is er geen eten."
ZEOTTERS DIE EEN PETITIE HERINTRODUCEERD WORDEN LANGS DE WESTKUST
De ernstigste gevallen die binnenkomen betreffen aanvaringen met boten. Het jaarlijkse rapport toonde aan dat varen en geboorten de weg vrijmaakten voor bekende doodsoorzaken in 34 provincies in de staat Florida.
"Elk jaar worden er zoveel dieren geraakt en gedood door boten. We proberen hier in de dierentuin echt het bewustzijn te verspreiden, waar we mensen kunnen leren hoe ze boten veilig kunnen gebruiken rond zeekoeien, " zei Lippincott.
KLIK HIER OM DE FOX NEWS-APP TE ONTVANGEN
Het budget van Florida omvat $ 30 miljoen dat zal worden besteed aan het redden van zeekoeien. Het geld gaat naar de uitbreiding van het staatsnetwerk van acute zorgfaciliteiten, ondersteuning van leefgebieden en ondersteuning van proefprogramma's.